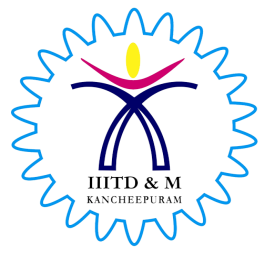 Indian Institute of Information Technology, Design and Manufacturing,
(IIITD&M) Kancheepuram, Chennai - 600 127
(An Institute of National Importance Fully Funded by Govt of India)
Dr A.Divya
Visiting Faculty
P. G : M.A., The University of Sheffield, the U.K
: M.St., University of Oxford, the U.K
PhD : Nanyang Technological University, Singapore
Email : divyaa@iiitdm.ac.in Phone : +91-44-27476380
---
Research Interests
Nineteenth-Century English Novel
Early Modern English Drama
Narrative Design
Urban and Spatial studies
Art and Design
Employment
Postdoctoral Teaching Assistant (Sept-Dec 2014), Singapore University of Technology and Design (SUTD), Singapore.
Part-time English Language Tutor (2011-2014), Language and Communication Centre, Nanyang Technological University, Singapore.
Scholarships
NTU Research Scholarship (2009-2013)
Bharathidasan University Endowment Scholarship (2005)
Membership in Professional Societies
British Association for Victorian Studies (BAVS)
Presentation by Invitation
"'Don't Turn Me Out': Reorienting Love and Revenge in Emily Brontë's Wuthering Heights (1847)", Catholic Junior College, Singapore, 6 Oct 2010.
Book Chapter
"'You might pioneer a little at home': Hybrid Spaces, Identities and Homes in Elizabeth Gaskell's North and South (1855)". Place, Progress, and Personhood in the Works of Elizabeth Gaskell. Ed. Emily Morris, Sarina Gruver Moore, Lesa Scholl. Ashgate Publishing Ltd. 2015.
Conferences
"Puzzling the texts of the play-within-the play in Hamlets", Mastering Early Modern English Literature at Oxford, A Colloquium, University of Oxford, the U.K., 2 May 2007.
"Reorienting the Houses in Emily Bronte's Wuthering Heights", Reorienting Victorian Studies Conference, Nanyang Technological University, Singapore, 27 June 2010.
"'Her duty to set her young man free': Liberty, Hybridity and Identity in Thomas Hardy's Two on a Tower (1882) and The Return of the Native (1878)", Hardy Conference, Yale University, the U.S.A, 10 June 2011.
"Sherlock 2010: Contemporary Pink versus Victorian Scarlet", The Contemporary Conference, Nanyang Technological University, Singapore, 26 June 2011.
"'Why is the hotel called the "Palace Hotel?': Narrative negotiations and the dialectics of identities in Wilkie Collins's The Haunted Hotel (1879)", Victorian Conference (AVSA), University of Adelaide, Australia, 3 Feb 2011.