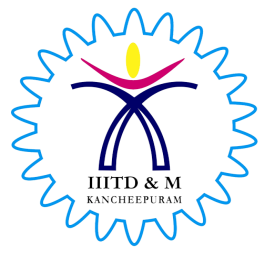 Indian Institute of Information Technology, Design and Manufacturing,
(IIITD&M) Kancheepuram, Chennai - 600 127
(An Institute of National Importance Fully Funded by Govt of India)
Dr. Nargis Pervin
Visiting Faculty
U. G : B.Sc., Mathematics, July, 2004,University of Calcutta, Kolkata, India
P. G : M.Sc., Industrial Mathematics and Informatics, November, 2006, Indian Institute of Technology, Roorkee, India
M.Tech., Computer Science, Aug, 2009, Indian Statistical Institute, Kolkata, India

PhD : National University of Singapore, Singapore
Email : nargis@iiitdm.ac.in Phone : +91-44-27476368
---
Specialization
Research Interests
Social Network Mining
Big Data Analysis
Econometric Modeling
Recommender System
Awards
International Conference on Information Systems, Orlando, Florida, US, Dec 2012
Pacific Asia Conference on Information Systems,Jeju Island, South Korea,June 2013
Workshop on Information Technology and Systems,Milan, Italy,Dec 2013
International Conference on Information Systems,Auckland, New Zealand, Dec 2014
Human Computer Interaction International,Los Angeles, USA, Aug 2015
Student Awards - National University of Singapore, School of Computing, Research Fellowship (2010-2014)
Student Awards - National Institute of Informatics, Japan ,NII International Internship Fellowship (March, 2013- Aug, 2013)
Other Details
Reviewer for European Conference on Information Systems (ECIS), 2012
Reviewer for International Conference on Information Systems (ICIS), 2013
Member, Association for Information Systems, 2012 to Present
Employment
Research
Research Internship at National Institute of Informatics, Tokyo, Japan
Junior Systems Consultant at Metalogic Systems,Kolkata, India
Books
Pervin, N., Nishant, R., "Food for Thought: Managing Secondary data for Research Summary" 2015. Submitted to Palgrave Macmillan.
Journals
Pervin, N., Fang, F., Datta,A., Dutta, K., VanderMeer, D. "Fast, Scalable, and Context-Sensitive Detection of Trending Topics in Microblog Post Streams." ACM Transactions on Management Information Systems, Vol. 3, No. 4, Article. 19, 2013
Datta,A., Dutta, K., Kajnan, S., Pervin, N. "A mobile app search engine." ACM Mobile Networks and Applications(MONET), Vol. 18, No. 1, pages: 42-59, 2013
Pervin, N., Kajanan, S., Ramasubbu,N., Dutta, K., Datta, A.,Takeoff and Survival of Apps in Mobile Platform Ecosystems: An Empirical Analysis of iOS and Android Apps" 2014. Submitted to Production and Operation Management.
Conference and Workshop Publications
Pervin,N., Layek,L., Das,N. "Localized algorithms for connected set covering problems in wireless sensor networks", International Conference on Parallel Distributed and Grid Computing (PDGC), 2010
Datta,A., Dutta,K., Kajanan,S., Pervin,N., "A Mobile App Search Engine", Mobile Computing, Applications, and Services(MobiCASE), 2011
Fang,F., Pervin,N.,Datta,A., Dutta,K., VenderMeer,D. "Detecting Twitter Trends in Real Time", Workshop on Information Technology and Systems (WITS), 2011
Kajanan,S., Pervin,N., Ramasubbu,N.,Dutta,K., Datta, A., "Takeoff and Sustained Success of Apps in Hypercompetitive Mobile Platform Ecosystems: An Empirical Analysis", International Conference on Information Systems (ICIS), 2012
Ramasubbu,N., Kajanan,S., Pervin,N.,Dutta,K., Datta, A."Surviving Hyper-Competitive, Unforgiving Platform Ecosystems: Examining Developer Strategies in iOS and Android Marketplaces." Workshop on Information Technology and Systems (WITS), 2012
Pervin,N., Datta, A., Dutta, K. "Towards Generating Recommendations on Large Dynamically Growing Domains.", Pacific Asia Conference on Information Systems(PACIS), 2013
Cazabet, R.,Pervin,N., Toriumi, F., Takeda, H. "Information Diffusion on Twitter: everyone has its chance, but all chances are not equal", International Conference on Signal-Image Technology and Internet-Based Systems (SITIS), 2013
Pervin,N., Cazabet, R., Datta, A., Toriumi, F., Takeda, H. "User Roles in the time of Crisis: A social Media Analysis", Workshop on Information Technology and Systems (WITS), 2013
Pervin,N., Takeda, H., Toriumi, F. "Factors Affecting Retweetability : An Event-Centric Analysis on Twitter", International Conference on Information Systems(ICIS), 2014
Pervin, N., Phan, T.Q.,Datta, A., Takeda, H., Toriumi, F. "Hashtag Popularity on Twitter: Analyzing Co-occurrence of Multiple Hashtags", HCI International, 2015